---
Danilo Echavaria Dalena
(4 Jan 1942) made his mark in the early 1970s with his caustic political cartoons and illustrations for the
Free Press
and
Asia-Philippines Leader
as it raised the standards of editorial art in the country. He also did a series of highly realistic toilet and graffiti drawings in 1972. He has produced series of paintings depicting folk costums and lifestyles in the city. When he returned to his hometown in Pakil, Laguna he has found new artistic inspiration in folk costums and lifestyle depicting its festivities.
In 1974 shortly alter the declaration of martial law caused the closing down of the Philippine Leader, Dalena found himself without work. He then began the Jai A/ai Series that portrayed not the game itself but the swirling mass of bettors who arrived hopeful but left as losers. One of the paintings in his series grabbed the grand prize in the Art Association of the Philippines competition the following year.
An exhibit of 27 large oil paintings held in 1978 at the gallery of the Regent of Manila was the event that brought him unanimous critical acclaim. Two years later, he won the 1980 Mobil Art Awards with paintings from the same series. Critics commented on his use of color and the penetrating political allegory implicit of a country in crisis. While he was completing the Jai Alai Series, he started working on another set of oil paintings of strippers and dancers in a beerhouse on one of Manilas major thoroughfares.
Danilo Dalena: a survey of his works
http://books.google.com.ph/books/about/Danilo_Dalena.html?id=vNCfAAAAMAAJ&redir_esc=y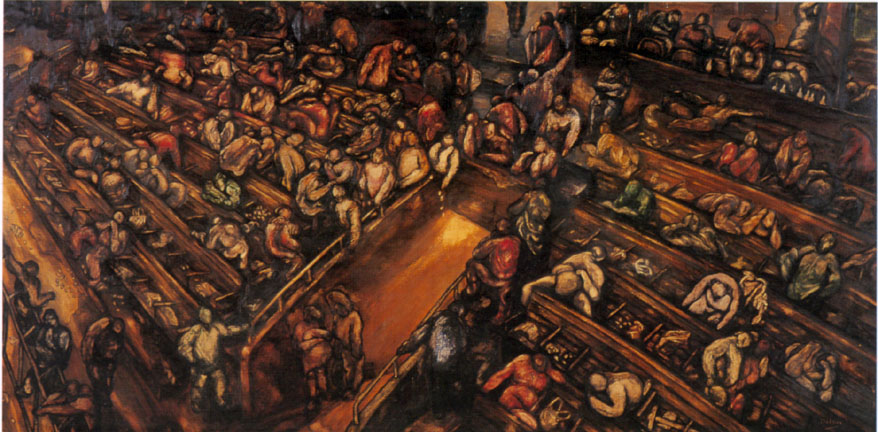 Modernity and Beyond: Themes in Southeast Asian Art
. Singapore: National Heritage Board/Singapore Art Museum, 1996
Patrick Valiente
Digital Artists and Art Director
http://rprvaliente.deviantart.com/gallery/
His experience includes working with below the line materials of the major advertising agencies namely JWT, McCann and HK accounts. Also involve to
FEMAR/GLOBEDEZ. His works includes big projects like Coca Cola (Buksan Mo), Subaru, etc. A good photographer, art director and a leader.
One of his works:
Source: http://rprvaliente.deviantart.com/gallery/?offset=0#/dw22pk
Sari Lluch Dalena
Sari Lluch Dalena is a Filipina independent filmmaker from Manila. She has screened her works internationally in Asia and the U.S. She is currently pursuing her Master's degree in Film at the New York University under a Fulbright-Hayes scholarship. She was honored as one of the Cultural Center of the Philippine's 13 Artists Awards in 2000 and received Grand Jury Prize for Best Experimental Film in 2001. She recently received the Grand Prize Starr Foundation Award from the World Studio Foundation and the Asian Cultural Council Fellowship for 2002-2003.
Other works include Attack Champion (2000), Bullet Days (2001), Kamikaze (2002), From Asia with Love (2002) and Memories of a Forgotten War (2001), co-directed with Camilla Benolirao Griggers.
Gabriela Krista "Kiri" Lluch Dalena
is a multimedia artist, sculptor, indie filmmaker and human rights activist. She is the daughter of artists
Danilo Dalena
and
Julie Lluch
.
more on Krista...http://www.imdb.com/name/nm1785626/
http://doveglion.multiply.com/
Her works where she won best Director.
BERNARD VISTA
BERNARD VISTA was born Pakil, Laguna, and went to the University of Santo Tomas for a degree in Fine Arts.It was in college where he associated with other dynamic artists from Laguna, such as Edwin Tres Reyes and Bayani Ray Acala, also from Pakil.A scholar of the Saturday Group Painters Association, he was also a university varsity swimmer throughout college, thus subsidizing his studies at the Pontifical University.
Vista found work as illustrator for children's books, honing a style that best suited the needs of the various publications.For his achievement, he won the PBBY Illustrators Prize, third prize in the national competition.
Vista has actively participated in many group shows particularly those organized by Galerie Joaquin.His first major solo exhibition September of last year entitled "Biyaya (Blessings)" marked his entry in the lime light of arts as he gained recognition for his larger than life depictions of the Filipino way of life.
Vista highlighted the rich customs and traditions of Filipinos passed on from one generation to the next.Inspired by the rural scenes of his hometown, he puts on canvas the humble countenance of his people, human figures of fisher folks and farmers, characteristic of their passion for life and oneness with the bounties of nature. His portrayals of men and women possess a glimmer of indescribable peace, contentment, and strength of inner spirit while the activities and details by which his subjects are immortalized solidify the Filipinos' sense of enjoyment and admirable trait of counting their blessings.
Rogel Isorena
Asiong Isorena
Mang Asiong is a well known local artist whose works are known circulated in Laguna and Manila. He taught most of the present Pakil artist today. Although some young people of Pakil may not know him, his skills is keen which his works looked towards local genres like sceneries and objects of old local scenes.
Emin San Gaspar
He initialized to cultivate the local skills of Pakil to create
Whittling
as an art. A wonder art of this town which considered to amaze local and international people what skills have these people who can make art so delicate. The craftsmanship of the people of Pakil lead to an industry that bloomed out of their artistry. Their ingenious skill in whittling is something that gains admiration from local and foreign crafts enthusiasts.
Monching Pasang
Ka Monching was involved in starttin wood wittling in Pakil where during his time, this becomes popular to international clients. Some popular newspapers published about this.
Miraflor Celemin
You can look at this young lady for moving his talent forward as she has a keen knowledge of camera lense towards her subject. Her work can be seen: http://www.vogue.it/en/photovogue/Portfolio/0cc58e33-4f52-40d5-b8c3-e6bb05534aa2/Image
She found the local subject of Pakil to start a step in the ladder of success if she continues her dedication as photographeto photography
Mario S. Garcia
User Interface Designer/Web Developer
Mario Garcia is a freelance Web Designer/User Interface designer. His works includes David Rosenberg, a New York based doctor who writes on Vogue magazine, Outrage Movie web site, an award winning Holywood film, Jezebel Productions site, a US Jazz awardee for Jazz movie documentation, US weight lifter winner, Manny Pacquiao movie collaterals, Darlene Zschech Manila Concert etc. He is also a finalist of 11th Philippine Web Awards held in RCBC Tower Ayala Makati. He was employed by WikiHow as illustrator. Worked in RRDonnelly.
Noel de Roma
Noel is known for local Pakilenos as on call artist where he draws caricatures on local newspaper. He has depict humors on his works as his personality reflects it.
Some Paetenians born were lived in Pakil and made a historical and accomplishments in the Philippine art scene.
Conchita Mirabella
Although not known to many, she has skilled hands to create delicate artwork from wood. She was the one who creates some woodworks from her imagination to mass produce in the market.
Some Paetenian born but lived in Pakil:
Jose Dans - included as influencial artists of the philippines during 1800.
Jerry Morada - GSIS awardee
Works of local people of Pakil.